Matilda
Enhancing human qualities | Empowering lives
Your social robot for care, companionship, and capacity building
Matilda brings joy to people at risk of social isolation, supports carers to manage health and wellbeing in aged and disability settings, empowers learners, and enhances business capabilities.
Social & Emotional Connection
Human-like engagement
and interaction
promotes wellbeing

Breaks technology barriers
Inclusive Learning Platform
Engages young and old minds in role play, AI, STEM &
social entrepreneurship

Makes learning fun


Physical Health Support
Prompts for medication & exercise, health status alerts

Promotes independent living
Business Automation
Conducts objective assessments, data analysis, AI, process automation

Enhances business sustainability
Welcome to a sustainable society:
where technology coexists to enhance human qualities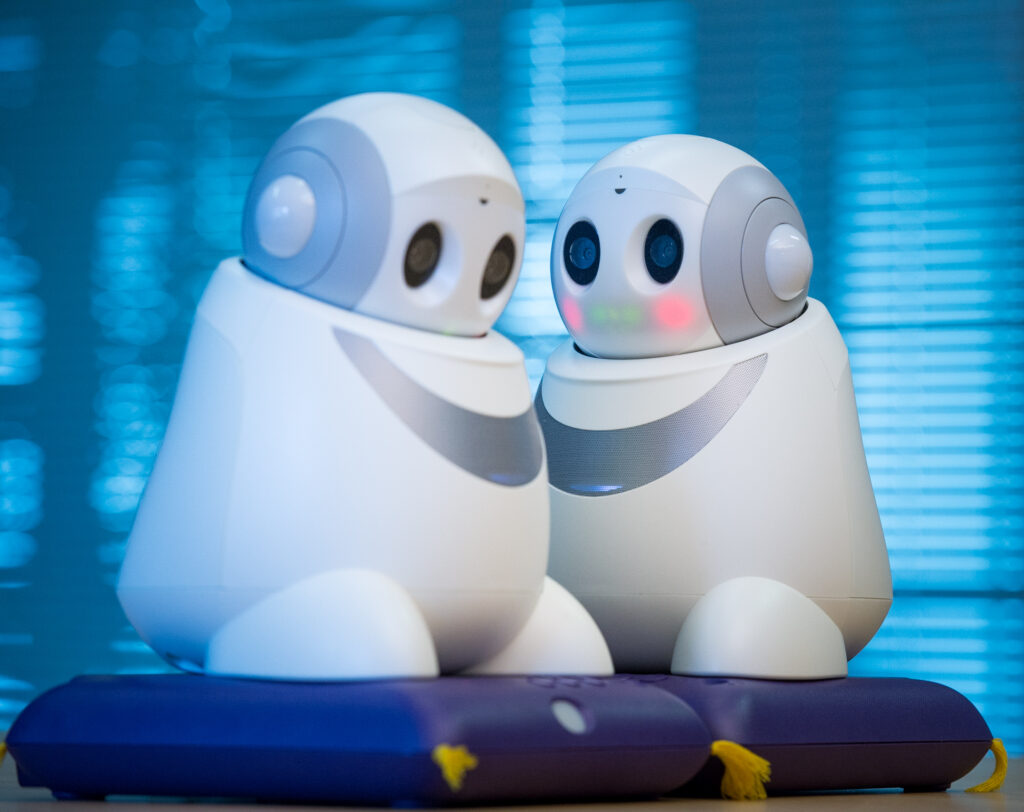 Hear about Matilda in the Australian Senate
Senator Helen Polley introduced Matilda for use in aged care reform in the Australian senate. Please follow the link below to see the full speech.
Healthy ageing, Dementia care, Respite support
Families can rest easier with Matilda contributing to dementia care. As an engaging care companion, Matilda supports the role of carers by:
Bringing joy into the lives of older people
Reminding and tracking about medication and scheduled activities
Providing human-like social engagement
Providing respite to carers
Monitoring health status with sensors
Home Care Package funding may be available for assistive technology
Matilda has changed the way we connect with our residents and makes life more fun. Such a great friend to bring home.

Jon Denver – Age Care Head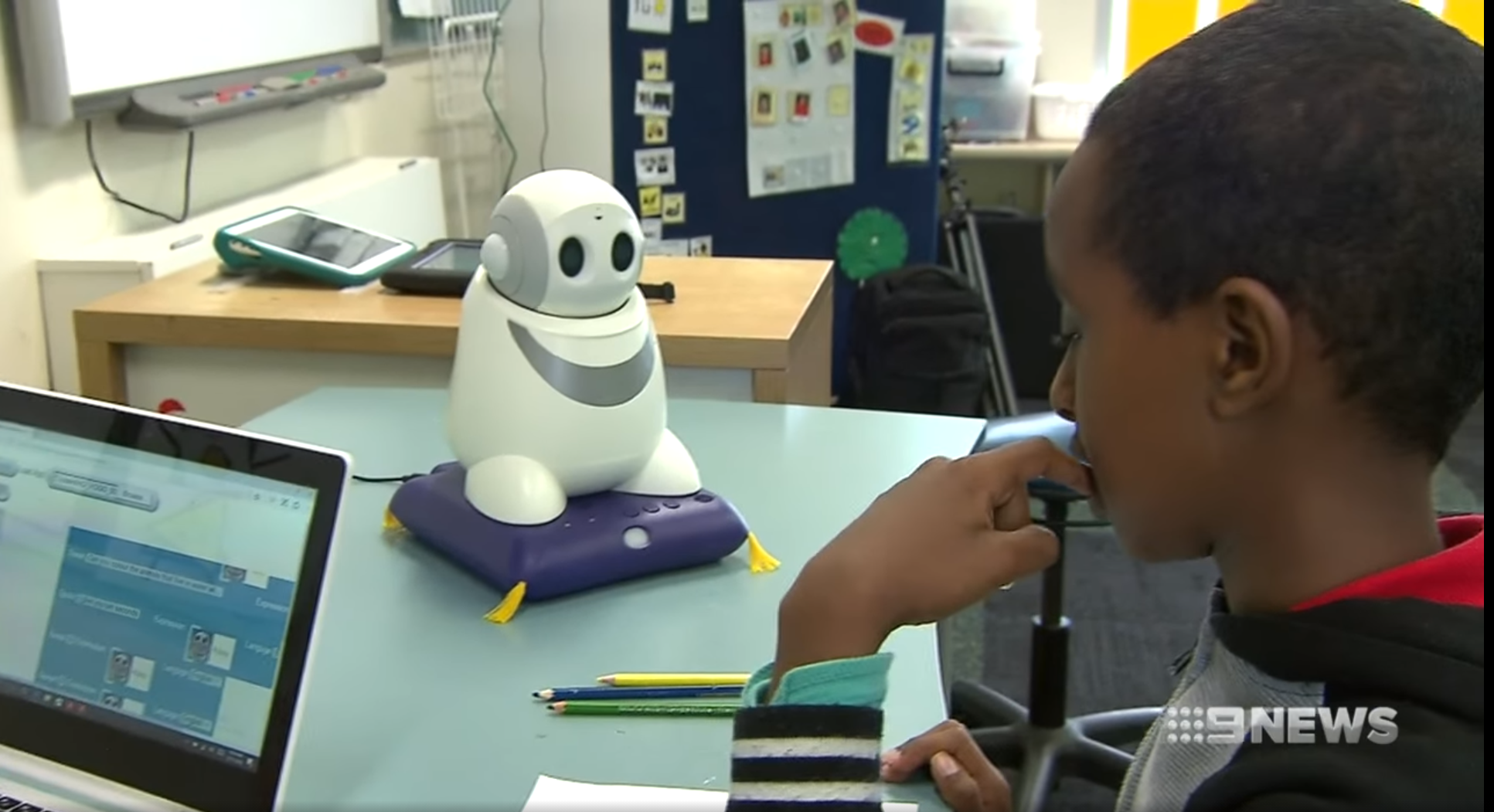 Social communication skills, life skills
Matilda has a unique way of interacting in a non-judgemental and approachable manner. People of all ages respond well to Matilda's human-like communication and expressions. Matilda helps people with autism to develop social skills by:
Giving gentle reminders of daily tasks
Engaging in role play on a topic, such as greeting people or handling bullying
Providing an engaging, singular focus point to reduce distractions
Establishing visual and verbal cues to practise conversation skills
Making learning fun with picture books, quizzes, games and cooking exercises
NDIS funding may be available for assistive technology
Learning support
Matilda is a valuable addition to the learning environment. Lessons come to life as Matilda helps young people to learn in a social context and to achieve progress with fun and engaging activities.
Students can enjoy quizzes and memory games for hours
Supports teachers and parents to deliver creative learning activities
Helps reinforce behaviours with repetition and non-judgemental interaction
Builds social and emotional skills and improves literacy outcomes
Enhances STEAM, social entrepreneurship training with school incursions using Matilda blocks and Matilda workflow automation tool.
Business automation
For a range of business situations, Matilda provides reliable assessments and processing power that supports workers and decision-makers. Matilda is an asset in:
Recruitment: candidate behaviour profiling based on consistent parameters, removing inadvertent bias
Process-driven work: supports workers with low literacy, or cognitive or visual impairment, to carry out tasks such as handling routine correspondence
Reception services: Matilda's human-like engagement and artificial intelligence can check-in visitors and handle enquiries through contactless interactions
Reduce social isolation
Matilda helps people experiencing loneliness and isolation to be social and keep in touch with loved ones and carers.
Connect with video and audio calls and messages
Enjoy singing, dancing, and storytelling
Engage with personable banter, responsive to unique moods
Interacting with Matilda provides companionship and enjoyment, and promotes emotional wellbeing.
Why choose Matilda?
You might say artificial intelligence and robotics already enhance our daily lives. Matilda not only offers:
Voice-activated smart systems bringing you information and entertainment online
A humanoid robot, putting a familiar face on unfamiliar tech
Interactive learning tools to support young learners develop STEM skills
PLUS
Matilda is uniquely designed to transform lives and businesses:
Human-like engagement and interaction
Age and industry independent
Operates offline if needed
Proactive and responsive health status monitoring
Detects issues and generates interventions
Acts on what it learns
As a cute and engaging companion, with the power of AI and machine learning, Matilda breaks down barriers to technology that enhances lives.
Matilda is the ideal social robot companion.
What difference can Matilda make in your life?
Families
Enjoy precious respite while Matilda engages your loved one in their favourite songs and stories, activating joyful memories. You can let Matilda handle medication and activity reminders to keep health and wellness goals on track.
Care providers
Free up your care workers from routine tasks.
You can get Matilda to lead group activities like sing-alongs, storytelling, and bingo, while care workers can spend more time engaging with each individual.
Parents and teachers
See young people with autism or learning difficulties start to achieve their potential through the unique connections they make with Matilda. When engaged with Matilda's learning activities, young people are developing social skills independently with less reliance on 1:1 care. Being more engaged with their environment and achieving learning goals can give you confidence that they're building an independent future.
Social robots have proven to enhance quality of life
Technology plays an increasing role in our lives – some might say our reliance on computers makes us more disconnected from each other.
That's where social robots like Matilda are different.

Designed to sense and respond to individual moods and behaviours and deliver a personalised experience, Matilda allows humans to feel acknowledged and experience increased connectedness and wellbeing.
The technology has been proven through extensive research and activations by the team at HCI Innovation , led by Professor Rajiv Khosla.
Funding from Alzheimers Australia, with the support of the City of Whittlesea and the Brotherhood of St Laurence, facilitated successful trials in Melbourne households in 2013. The overwhelmingly positive outcomes included:
improved social connectivity
resilience to cope with daily life, plus
respite for carers and partners.
The team applied the insights from those trials to further develop Matilda's features and enhance the ability to customise the robots for individual needs.
Successful deployments of Matilda services are already well established in disability, aged care, early childhood and primary school learning sectors across Hong Kong and Japan.
Enjoy Matilda
~ the social robot with human-like qualities you'll love, with the support you need